I'm Here Now
2023

neon, custom PCB, optical filters

Installation
Light Study
Physical Computing

I'm Here Now is a site-specific installation exploring the idea of distorted perception and the concept of asynchronous existence between individuals, specifically between myself and others. By placing it in a liminal space, I position myself in a place where people pass through but never stay.

Drawing inspiration from the solar eclipse and the dynamic between mankind and the universe, I see similarities in the corporeal relationships among human entities and celestial bodies. As we go about our daily lives, we routinely move closer to, drift apart from, and sometimes revolve around each other. In the process, we tend to see each other's existence in distortion and obscurity. And because of the physical distance between us, we always experience realities at different times.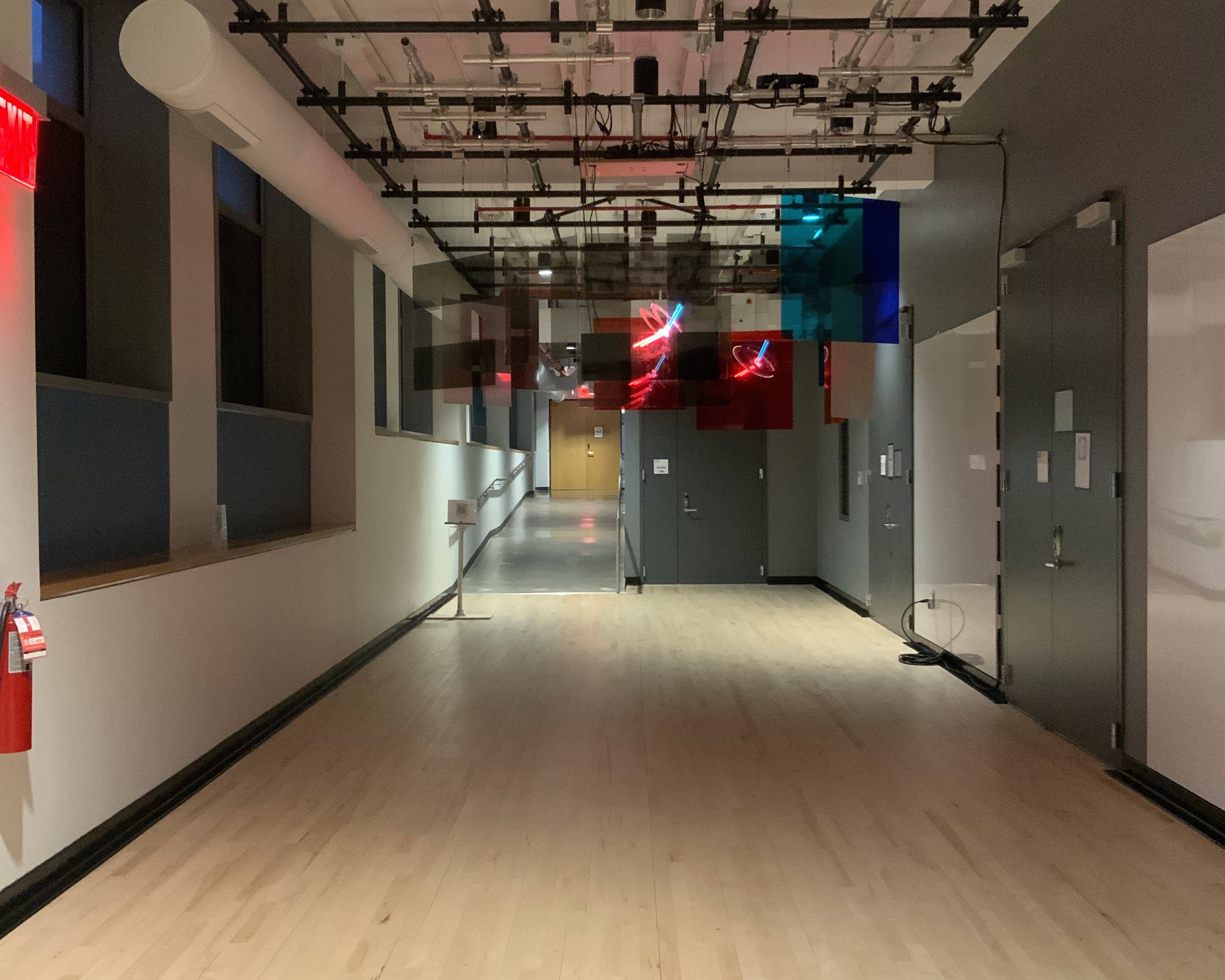 At the center, a light sculpture consists of two neon pieces and two PCBs (printed circuit boards) that are suspended at a height of 7'. Surrounding the light sculpture are 14 panels of acrylic sheets with various types of optical filters, suspended at heights ranging from 5'6" to 6'6". All suspended objects loosely occupy the width of the space, prompting people to walk around or pass underneath, much like the interaction between celestial objects. When doing so, because of the filters, the central light sculpture can be viewed in many different colors and textures. The light sculpture represents the artist's journey of crafting an identity, breathing on its own and reacting to every person passing by.



Technical Information

14 panels of optical filters, suspended at heights ranging from 5'6" to 6'6", include polarized filters, color filters, frost, silk, and mirror, allowing visitors to view the central light sculpture in different ways.

The light sculpture consists of two neon pieces and two PCBs (printed circuit boards) suspended at a height of 7'. The two neon pieces, one red and one blue, are powered by 120V-7KV transformers. The 120V power is connected to a 2-channel relay, which is controlled by an Arduino that also has a PIR motion sensor connected to it. The motion sensor triggers the two neon pieces to perform a pseudo-random glitching pattern, which is also perceived sonically due to the noise of the relay's mechanical switch. Both PCBs are ring-shaped with identical circuits, but only one has components, which are warm white LEDs arranged in a circle. The LEDs are slowly fading up and down at a regular breathing speed.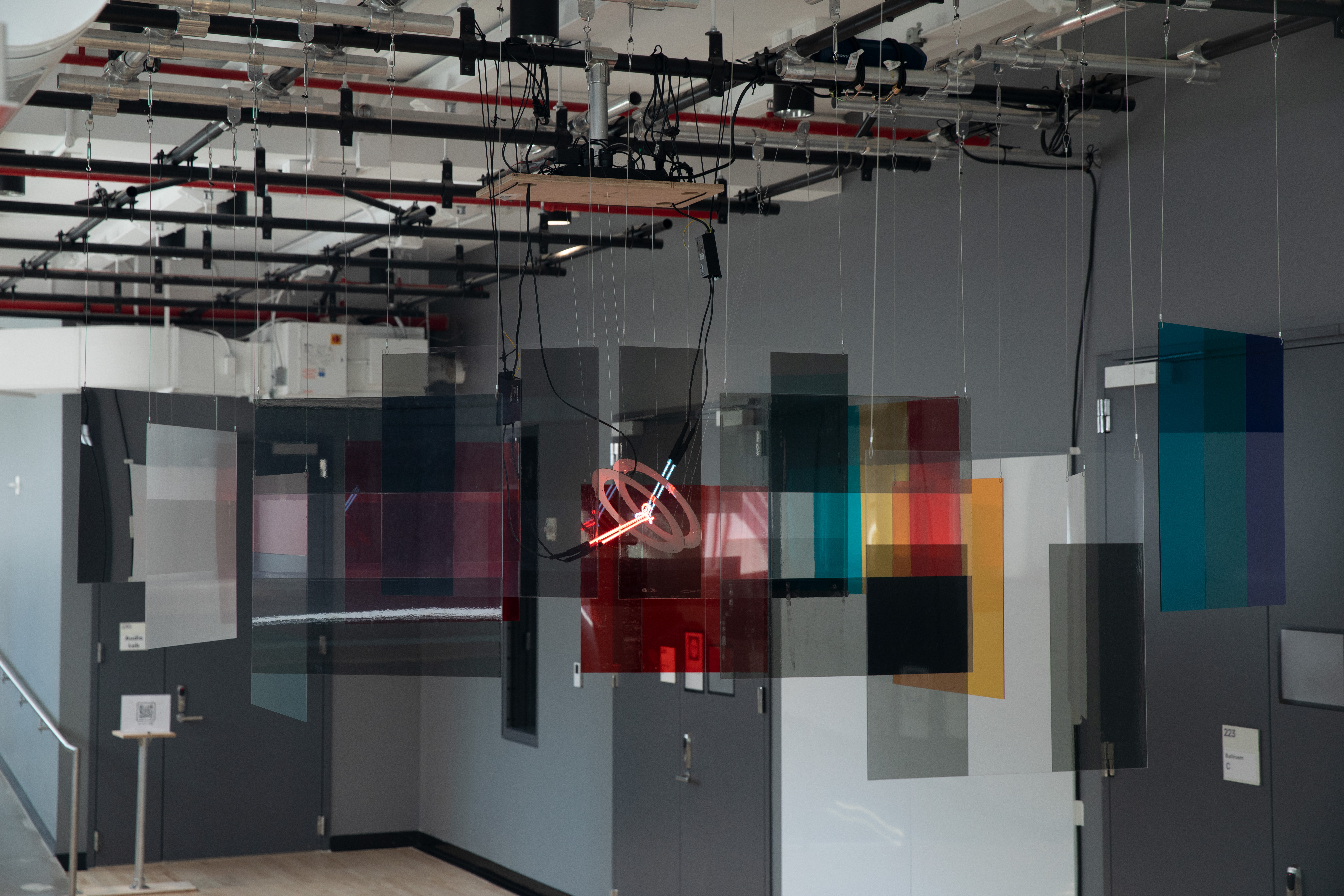 photos by Tuan Huang and ITP Documentation Lab





Audience Engagement and Interaction

The first edition of I'm Here Now is site-specific to the media commons corridor at 370 Jay St, Brooklyn, NY.

By passing through the corridor, people can experience the installation from every angle and every single spot. Upon entering the corridor, on the ramp, they can see suspended objects. When they get closer to the installation from one end, they see obstructed views and reflections of the light sculpture; from the other end, they see distorted colors of the light sculpture. They can move around or dock under the suspended objects, which allows them to continue seeing different views of the light sculpture. When they get too close to the sculpture, the two neon pieces begin the glitching pattern, which may prompt people to change their movement and distance from it.